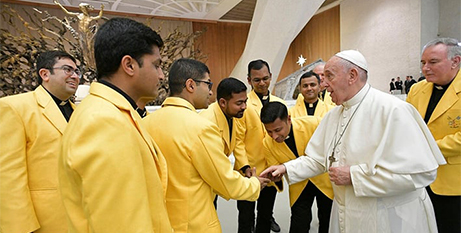 From a double-century in his Sydney backyard at age five to captaining the Pope's cricket team at the Vatican, Fr Bijoy Joseph has enjoyed a career every sports-lover would be proud of. Source: The Catholic Weekly.
However, the end of his studies in Rome means calling stumps on his time in the Holy See's white and yellow kit.
The handy batsmen played his last match for the St Peter's Cricket Club this month and is now preparing to return home to Sydney and begin his parish ministry.
Speaking after a tour of Spain, he said that Pope Francis was a strong supporter of the team, and regards sports as a metaphor for life, where training, discipline and motivation are opportunities to build character and encourage inter-faith dialogue.
But coming from Argentina, the Holy Father confesses that his knowledge of the game is very limited, a laughing Fr Bijoy said.
"Our team mission is to build bridges with other faiths and cultures and to present a different side to the Catholic priesthood," he said.
"Our team manager, Fr Eamonn O'Higgins LC, always reminds us that we are priests first and cricketers second.
"I believe we serve a role of first evangelisation, where the sport enables people who may not go to church or who would never meet a priest, to have a different encounter of the Church than what may be presented through the media.
"After a game, one can then speak to the opposition team in a relaxed manner over a beer, and they are often curious about what a priest is, what he does, and his relationship with cricket.
"The sport is merely the medium, the goal is an encounter with Christ and his Church."
Established in 2014, the Vatican Cricket Team was formed to encourage ties between the Catholic Church and countries and regions where the sport is popular including India and the Caribbean.
FULL STORY
Vatican cricket captain Fr Bijoy Joseph heads back to the pavilion (By Debbie Cramsie, The Catholic Weekly)