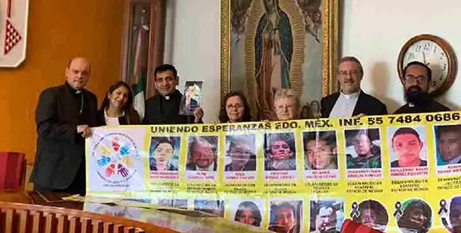 Faced with the lamentable growing wave of disappeared persons in Mexico and with it the formation of groups — primarily mothers – looking for their missing children, the Primatial Archdiocese of Mexico is preparing a pastoral plan to accompany them. Source: National Catholic Register.
In Latin America to say someone "was disappeared" means that the person was abducted, often by organised crime, an authoritarian government, or a rebel group and may or may not be alive.
Mexico Auxiliary Bishop Francisco Javier Acero said they are "making a small-scale pastoral plan" for mothers of disappeared persons and that it would also be open in the future to the entire community through the Mexican Bishops' Conference.
The prelate, who advocated "having at least one Mass dedicated to the disappeared," said that the pastoral plan is "within the socio-charitable dimension of justice and peace".
According to the organisation Movement for Our Disappeared Persons in Mexico, which was created in 2015, there are more than 60 groups of relatives seeking to enforce the Law of Disappearance, which went into effect in January 2018, to find the whereabouts of their missing relatives.
According to an activities report of the National Human Rights Commission, "the disappearance of persons, including forced disappearance, constitutes a multi-offensive violation of human rights, since in addition to causing irreparable harm to the victims, it causes their families to suffer."
According to the website of the Ministry of the Interior, from January 1, 1962, to July 31, 2023, there are 110,988 missing and unlocated people. Just from January 1 to July 31 this year there are 6770 disappeared persons.
Disappearances in Mexico are related to various problems such as drug trafficking, impunity, corruption, and human trafficking.
Bishop Acero said that "at the pastoral level we have to create listening centres and at the same time lead them to prayer, Masses, the sacraments, mainly the Eucharist."
FULL STORY
Church in Mexico Announces Plan to Accompany Mothers of Disappeared Persons (National Catholic Register)