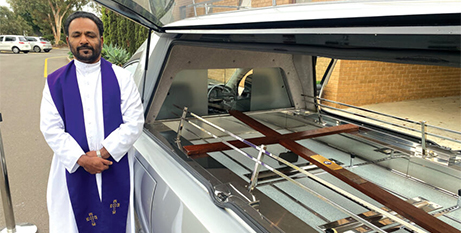 A 2.7m high cross made from the floorboards of the first school established by Mary MacKillop in Penola was the centrepiece of the feast day Mass for Australia's first saint at an Adelaide parish yesterday. Source: The Southern Cross.
Constructed by the Penola branch of the Knights of the Southern Cross in 1986, the cross has been travelling around the Adelaide Archdiocese as part of a pilgrimage marking the centenary of the Knights in South Australia.
It is one of two crosses made by the Knights, the first of which was presented to Pope John Paul II during his outdoor Mass at Randwick Racecourse in November 1986. The second was presented to Cardinal Edward Clancy, the then Archbishop of Sydney, and remained in Sydney's St Mary's Cathedral for many years.
As part of the centenary pilgrimage, the cross has been made available for veneration and prayer in 13 parishes in the Adelaide Archdiocese,
Because of its size, the cross has been transported from parish to parish by KSC State deputy chair David Lloyd in a hearse provided by Blackwell Funerals, which also sponsored printed leaflets.
"It's been quite the logistical exercise," said Mr Lloyd, a member of the Dernancourt branch. "But all the parishes have been very pleased to be part of the pilgrimage."
FULL STORY
Cross marks Mary MacKillop feast day (The Southern Cross)