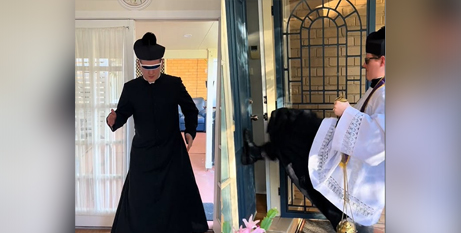 Not too long ago, Fr Sam French deleted his social media accounts and ditched his iPhone. Today, he's reaching more than one million young people a month with viral videos about the priesthood and the Catholic faith. Source: The Catholic Weekly.
The 30-year-old vocations director for the Diocese of Broken Bay began posting skits and musical memes, reflections and vlogs on TikTok and Instagram in May with just a few dozen followers.
That has now grown to 29,000 on Instagram and 15,000 on TikTok.
Most users of both platforms are aged 18-34 and Fr French wants to reach them with light skits about the church and priesthood, punctuated with more sombre themes, reflections on scripture and direct appeals to young Catholic men to consider priesthood.
"If you'd asked me 12 months ago about social media, I would have said it's toxic and I would still say that today," Fr French said.
"I think there's a lot of danger associated with social media, and it probably is a net negative for youth culture and for society.
"But I cannot escape the fact that that's where young people are. This is basically mission territory.
"I had to grapple with that in my role and it wasn't something I was super conscious of before, but when I was put into this role I had to pray about how to approach young people. "Of course, going personally to the parishes is the principal avenue, but secondary to that is to go where I can be seen and to get the message out more broadly."
While he knows that a TikTok video is never going to be a place of deep encounter pointing young people to God, Fr French is happy with at least interrupting the "doomscroll" phenomenon.
FULL STORY
Broken Bay vocations director Fr Sam French goes viral on TikTok (By Marilyn Rodrigues, The Catholic Weekly)