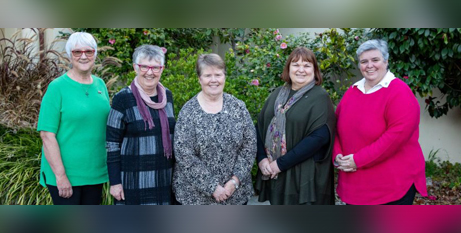 The 27th chapter of the Sisters of the Good Samaritan has been hailed as a blessed, enriching, inclusive experience, providing an opportunity for reconnection among sisters, partner organisations and staff. Source: The Good Oil.
The chapter, held July 24 to August 4 at St Joseph's Baulkham Hills in Sydney, produced a mission-focused "Statement of Directions" and a new leadership team has been charged with helping to bring the statement to life.
Sr Catherine McCahill was elected to be the new congregational leader, taking up her role at the end of September. She will be supported by council members Sisters Michelle Reid, Kathleen Spokes, Ann-Maree Nicholls, and Meg Kahler.
Outgoing congregational leader Sr Patty Fawkner said the chapter, which was the culmination of more than a year of prayer and discernment, was a wonderful experience.
"It was the most inclusive chapter we've had, even though fewer Sisters attended in person," she said.
"But the Sisters who weren't there in person were able to watch the livestream and they were able to submit two names they felt would be suitable for Superior, which gave them real agency and they were delighted with that."
Guest speakers were the former president of Kiribati, Anote Tong, who spoke on the urgency of the climate crisis for the people of his country, and Dr Estela Padilla, a community organiser and theologian from the Philippines, who presented on frameworks for leadership in a time of change and transition.
FULL STORY
Good Samaritan Sisters respond to a mission-focused call to action (By Debra Vermeer, The Good Oil)