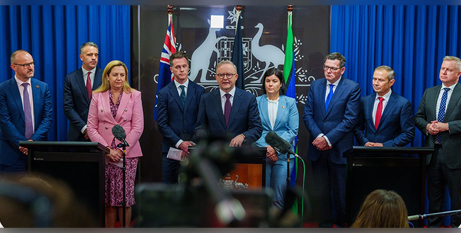 National cabinet has backed a deal on housing that sets a new target to build 1.2 million homes over five years, with the promise of $3 billion in incentives for states and territories to meet the goal. Source: The Age.
The federal Government will also pay $500 million for essential services such as basic amenities in new housing projects in a competitive fund that aims to encourage states and territories to quicken the pace of building approvals and housing construction.
Prime Minister Anthony Albanese struck the agreement with premiers and chief ministers in a discussion that canvassed health funding but focused on fears of housing shortages and rising rents.
While the meeting also agreed to set national principles on renters' rights, it put no deadline on the plan and left it to each state and territory to harmonise laws so landlords could increase rents only once a year and could not force "no-grounds" evictions.
The new incentive payment overhauls the National Housing Accord agreed last year, increasing its target from 1 million to 1.2 million homes over five years and promising a "reward" for the states and territories that do the most work.
The new $3 billion incentive, called the New Home Bonus, is calculated as a $15,000 payment from Canberra for each home a state and territory brings to the housing accord above the earlier target, in the hope of adding the 200,000 dwellings.
But the payment will not start until 2028, which means it will operate as a reward rather than an up-front subsidy.
The new policy is separate from the $2 billion Social Housing Accelerator announced in June to help the states and territories build more affordable homes, with that money flowing already.
FULL STORY
New $3.5 billion incentive for states to lift housing target (By David Crowe, The Age)