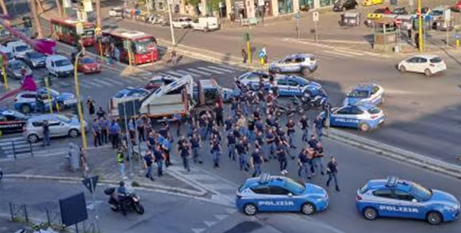 A 53-year-old man was arrested on Friday after leading police on a long chase through Rome, which ended with the perpetrator insisting that he planned to detonate a truckload of explosives at the Vatican, although the claim turned out to be a hoax. Source: Crux.
According to Italian media reports, the incident began early on Friday morning when emergency operators began receiving reports that a man on the main highway that loops around Rome's metropolitan area was throwing rocks at motorists and blocking traffic.
When police cars arrived on the scene, the man ran off on foot, ending up in a nearby auto rental agency where he managed to steal a small truck equipped with a mobile crane.
The man then proceeded to lead police on a lengthy chase on the highway and through the streets of Rome, at one point ramming two police vehicles attempting to block his movement.
Eventually, police succeeded at stopping the truck about two kilometres from St Peter's Square. Reports suggest the man exited the truck brandishing a knife and shouting at police to get out of his way, saying, "Let me go, I've got a load of explosives and I need to blow up this truck at the Vatican."
In the end, however, after the man was taken into custody, a search of the truck revealed there were no explosives on board.
This latest incident comes after a 40-year-old man forced his way into the Vatican in a vehicle in May, breaching an entrance and reaching a courtyard before being detained by the Gendarmes, the Vatican's internal police force.
In that case, the perpetrator was determined to be suffering from psychological instability and was sent to a nearby hospital for psychological evaluation.
FULL STORY
Threat to detonate explosives at the Vatican turns out to be a hoax (Crux)