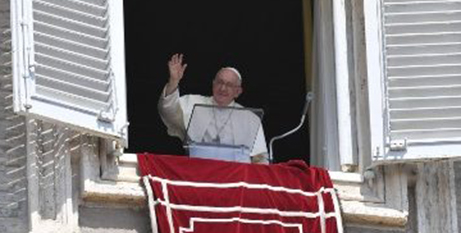 Christians should imitate Jesus in being steadfast – not inflexible – in their convictions, thus being open to change for the good of others, Pope Francis said yesterday. Source: National Catholic Register.
"This is what God is like: He is love, and the one who loves does not remain rigid," the Pope said. "You stand firm – you stay firm, not rigid."
The Christian, he added, "does not remain rigid in his own positions, but allows him or herself to be moved or touched. He or she knows how to change plans. It's creative love."
Pope Francis said: "We Christians want to imitate Christ; we are invited to be open to change. How good it would be in our relationships, as well as in our lives of faith, to be docile, to truly pay attention, to soften up for the name of compassion and the good of others …"
The Pope addressed a crowd of people from a window overlooking St. Peter's Square for his usual Sunday address and Angelus prayer on a hot, late August day in Rome.
An estimated 10,000 people were present, according to the Vatican.
Francis' reflection before the Marian prayer drew on the day's Gospel reading: The Canaanite woman who asked Jesus to heal her demon-possessed daughter.
After the Angelus, the Pope said he was praying for Niger, which is experiencing a political crisis after the military leader General Abdourahamane Tchiani seized power in a coup.
"I am following with concern what is happening in Niger. I join the appeal of the bishops in favour of peace in the country and stability in the Sahel Region," he said. "Let us pray for the dear people of Niger."
FULL STORY
Pope Francis: Christians 'Are Invited to Be Open to Change' (By Hannah Brockhaus, CNA via National Catholic Register)