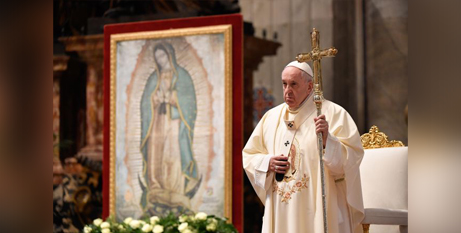 Pope Francis has highlighted the important role mothers play in passing on the faith to the next generation. Source: CNA.
In his catechesis on evangelisation yesterday , the Pope spoke about how the apparition of Our Lady of Guadalupe in Mexico in 1531 helped to spread the Gospel across the Americas, praising her as an inspired model of motherhood and inculturation.
"The Virgin of Guadalupe … appears dressed in the clothing of the native peoples, she speaks their language, she welcomes and loves the local culture. Mary is Mother, and under her mantle, every child finds a place. In her, God became flesh and, through Mary, He continues to incarnate Himself in the lives of peoples," Pope Francis said in his general audience in Paul VI Hall.
"Our Lady, in fact, proclaims God in the most suitable language, the mother tongue. And to us too Our Lady speaks in our mother tongue, the one we understand well … And I would like to say thank you to the many mothers and grandmothers who pass the Gospel on to their children and grandchildren: faith is passed on with life; this is why mothers and grandmothers are the first evangelisers."
When Our Lady of Guadalupe appeared to Juan Diego on Tepeyac hill in Mexico City on December 12, 1531, she told him: "Let nothing frighten you or trouble your heart: […] Am I not here, I who am your mother?"
Pope Francis highlighted this quote as an example of how the Virgin Mary always "consoles us, makes us go forward and thus allows us to grow, like a good mother who, while following in her son's steps, launches him into the world's challenges."
"Our Lady always chooses those who are simple, on the hill of Tepeyac in Mexico, as at Lourdes and Fatima: speaking to them, she speaks to everyone, in a language suitable for all, comprehensible, like that of Jesus," Francis said.
FULL STORY
Pope Francis: Like Our Lady of Guadalupe, mothers can be great evangelisers today (By Courtney Mares, CNA)