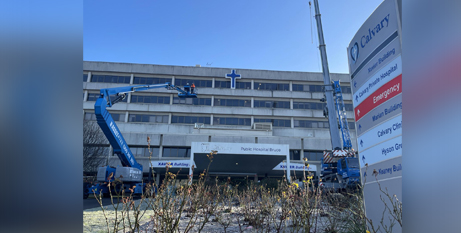 Leaders of Calvary Health Care have criticised the ACT Government for the way it took over its former public hospital in the Canberra suburb of Bruce. Source: Canberra Times.
The ACT Government had "taken steps to avoid standard democratic processes", it was alleged by leaders of the former Catholic hospital which was taken over by Canberra Health Services in July.
Speaking to the Senate Legal and Constitutional Affairs Legislation Committee, they expressed a sense of betrayal by people they had imagined to be partners until the takeover decision came at them out of the blue.
"I thought we were partners, and I thought we would be treated that way," Ross Hawkins, the chief executive of Calvary Health Care ACT, told senators.
He was particularly aggrieved because he said the staff at the hospital were working very hard after a fire in an operating theatre led to the shutting down of seven theatres and the maternity ward for a month.
He said that while his staff were "focusing on saving lives", the ACT Government was secretly working on taking the hospital over.
"That's deeply upsetting. That's not what you expect from a partner," Mr Hawkins said.
The Calvary organisation's National Director of Strategy, Vanessa Janissen, talked of the "clandestine manner" of the takeover. She said it "bordered on unconscionable conduct".
ACT Health Minister Rachel Stephen-Smith denied that the Government had made the decision without democratic oversight.
She faced a hostile question from senator Matt Canavan, who asked what her reaction would be "if the government gave you six weeks to get out of your house to build a road".
She replied: "I don't think that's an accurate comparison."
FULL STORY
Calvary leaders blast ACT government over takeover in federal Senate inquiry (By Steve Evans, and Lucy Bladen, Canberra Times)