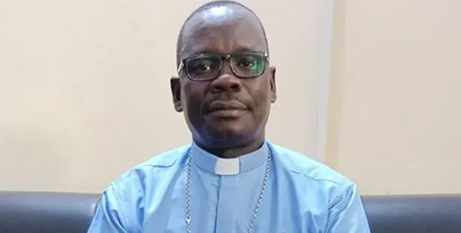 Fearing for their lives, Catholic missionaries have fled South Sudan's Yei Diocese, the local bishop said. Source: ACI Africa.
Bishop Alex Lodiong Sakor Eyobo said missionaries had fled Yei Diocese to other mission territories, adding that only a dozen diocesan priests are left ministering in Yei.
"We are very few; the clergy are very few. The missionaries who were working with us are no longer there because they fear for their lives; some of them went and joined the refugees in Uganda; some returned to their headquarters," Bishop Lodiong said.
The Yei Diocese is vast, measuring 46,000 square kilometres with an estimated 231,950 Catholics, representing 49.1 per cent of the population, according to 2020 statistics.
"My diocese is struggling in a sense that due to the war of 2016, a number of things have been vandalised, particularly infrastructures of service," Bishop Lodiong said.
Schools, health centres, presbyteries and churches are among some of the buildings that have been vandalised or destroyed since the 2016 war, the bishop said.
"Conditions of living are not easy in terms of the economy because there is no money; people working in the civil service don't have much money to earn; they cannot produce much because of these insurgencies around; they cannot cultivate much because of fear in their villages," Bishop Lodiong said.
Despite these challenges, Bishop Lodiong said the faith of the people in his diocese remains "very strong".
"The faith is very strong, thank God; it is faith that is sustaining people amidst these social, economic, and political problems in the area of the diocese."
FULL STORY
Missionaries Have Fled for "fear for their lives": Catholic Bishop in South Sudan Laments (ACI Africa)