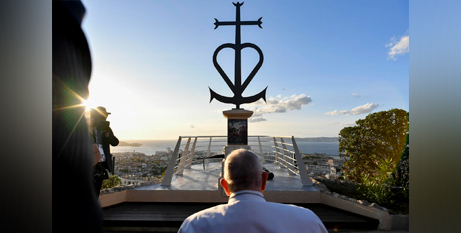 The deepening migrant crisis unfolding in the Mediterranean is "a reality of our times" that calls for wisdom and a collaborative response from European nations, not "alarmist propaganda", Pope Francis said at the weekend. Source: The Tablet.
Speaking at an inter-religious youth conference at the French port of in Marseille on Saturday, the Pope said the "stifled cry of migrant brothers and sisters" is turning the Mediterranean Sea from "the cradle of civilisation" to the "graveyard of dignity."
More than 20,000 people have died on central Mediterranean migration routes since 2014. At least 441 perished in the first three months of this year, the worst quarterly spike since 2017.
Marseille can't be closed, the Pope said, but other ports have closed to migrants. "And," he lamented, "there were two words that resounded, fueling people's fears: 'invasion' and 'emergency'.
"Yet those who risk their lives at sea do not invade, they look for welcome," the Holy Father insisted.
"As for the emergency, the phenomenon of migration is not so much a short-term urgency, always good for fuelling alarmist propaganda, but a reality of our times, a process that involves three continents around the Mediterranean and that must be governed with wise foresight, including a European response capable of coping with the objective difficulties."
Pope Francis arrived in Marseille, a city in the Provence region of southern France, on Friday. The main purpose of his visit was to attend the youth conference, named the Mediterranean Encounter. The gathering concluded yesterday, which was the World Day of Migrants and Refugees.
FULL STORY
Migrant crisis requires wisdom, not 'alarmist propaganda', says Pope Francis (The Tablet)
RELATED COVERAGE
In France, pope slams 'alarmist propaganda' that fuels fears of migrants (NCR Online)