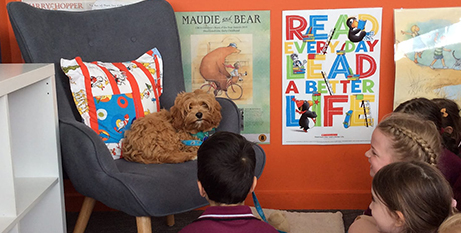 When a group of year 5 students at St Monica's Primary School in Canberra pitched the idea of a wellbeing dog last year, principal Lisa Harris was all ears. Source: ABC News.
"They'd done some research around how it could reduce anxiety and increase learning outcomes," she said.
"It was an overwhelming 'yes' from me because I could see the impacts of COVID — anxiety levels were high, kids were a little bit worried about coming to school … [and] some kids were misbehaving."
Year 2 teacher June Edwards said after St Monica's staff had researched the benefits of having a wellbeing and support dog, finding the perfect four-legged candidate to fill the role was a case of the right place and the right time.
"My family were thinking of getting another dog and I just happened to be in the office when they were discussing therapy dogs," she said.
"I was like, 'I'm in!'"
Monty the cavoodle was soon adopted by the Edwards family as an eight-week-old puppy. He has been a fixture at St Monica's ever since.
After full vaccination, a training course, and staff and students learning how to interact with him, Monty spent a few months at the school full-time.
Now the wellbeing dog is on part-time paw patrol, but staff say his calming presence has triggered a remarkable behaviour change, particularly when it comes to school refusal.
Exacerbated by the pandemic and different to truancy, school refusal is a stress response that makes attendance unbearable for the young person.
"Before Monty, a lot of students would come into the front office and they wouldn't want to go into class," Ms Harris said.
"Now, [they] want to come to school — they want to come and see him."
FULL STORY
Therapy dogs can help alleviate anxiety for school students, but experts say regulation needs to improve as their popularity grows (By Emmy Groves, ABC News)