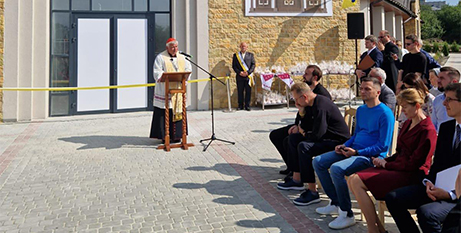 Papal almoner Cardinal Konrad Krajewski went to Ukraine for the seventh time on Friday, opening the Mercy House of Shelter for women and children in Lviv. Source: OSV News. 
The house was already under construction when the war broke out February 24, 2022, but the main work on it has been done amid the war.
"It's been a massive challenge," Cardinal Krajewski, who is the prefect of the Dicastery for the Service of Charity, said. "The workers were either called to military service or had to leave the construction site for hours because of sirens warning them to go to the shelter," he said.
"But now it's ready, beautiful and spacious."
The house, run by Albertine Sisters, was built to support people who fled their homes but did not want to leave the country and sought refuge in Lviv, which is in western Ukraine, where life is less dangerous than in the east of the country.
Various donors, including Pope Francis, helped to build the Mercy House of Shelter. Single mothers and widows whose husbands died defending the country will live in the house. It also will have a space for homeless people.
Cardinal Krajewski learned in Lviv that the victim of the recent Russian drone attack on the humanitarian warehouse of Caritas-Spes in the city was a father of three who fought in the Ukrainian armed forces for 15 months.
"The victim of this attack left behind three little children, so I couldn't decide otherwise but left the widow and the children a gift from the Holy Father that should supply them for at least several months. That's the least we could do in this situation," the cardinal said.
FULL STORY
Papal almoner opens shelter in Lviv three days after drone attack destroyed warehouse (By Paulina Guzik, OSV News)