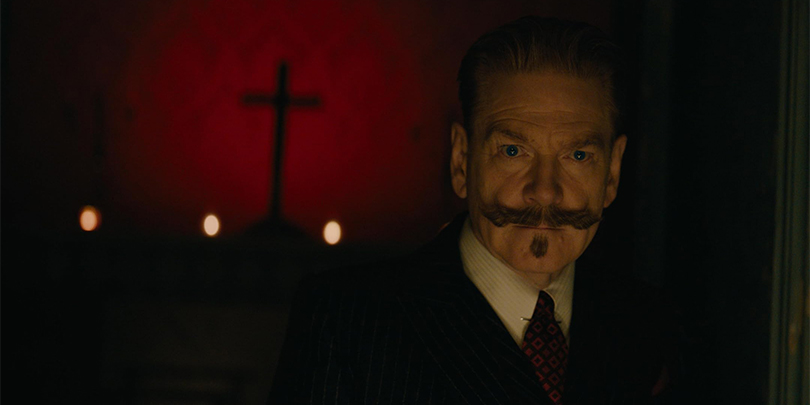 In A Haunting in Venice, intrepid inspector Hercule Poirot is encouraged to come out of retirement to investigate the death of the daughter of an opera singer and to solve two murders. Source: Australian Catholics.
Director Kenneth Branagh portrays Hercule Poirot for the third time. Branagh and screenwriter Mike Green have been wise to choose a rather little-known 1969 book by Agatha Christie, Hallowe'en Party. There are no comparisons with previous versions as they were with Branagh's Murder on the Orient Express and Death on the Nile, although there was the television version with David Suchet. However, the team has transferred the plot from England to Venice, 1947.
Poirot has retired to the "City of Canals" but his novelist friend Ariadne Oliver (Tiny Fey) urges Poirot into action again, challenging him to participate in a Halloween seance, to raise the spirit of a young woman who has committed suicide by diving into a canal. The young woman was the daughter of a once-famous opera singer.
Poirot is not only sceptical but speaks of lost any belief in the soul and, therefore, in God. But, he is in for a few jolts.
Most of the action takes place overnight. There is the arrival of the medium Mrs Reynolds (Michelle Yeoh), who is welcomed by the singer Rowena Drake (Kelly Reilly), doctor Leslie Ferrier (Jamie Dornan) and his ultra-precocious, Poe-reading son, Leopold (Jude Hill). And there are more suspects when there are more murders.
The film features lots of Venetian atmosphere – wonderful vistas of the city, gondolas on the canal. It also has some weird seance sequences, ghostly appearances and an attempt on Poirot's life.
A Haunting in Venice is not the greatest of films, but is an easy Christie-Poirot mystery entertainment.
Reviewed by Fr Peter Malone MSC, Jesuit Media
A Haunting in Venice: Starring Kenneth Branagh, Tina Fey, Michelle Yeoh, Kelly Reilly, Jamie Dornan, Jude Hill, Kyle Allen, Ricardo Scamarcio, Camille Cottin, Emma Laird, Ali Khan, Rowan Robinson. Directed by Kenneth Branagh. 106 minutes. Rated M (Mature themes and suicide references).
FULL REVIEW
A Haunting in Venice (Jesuit Media via Australian Catholics)