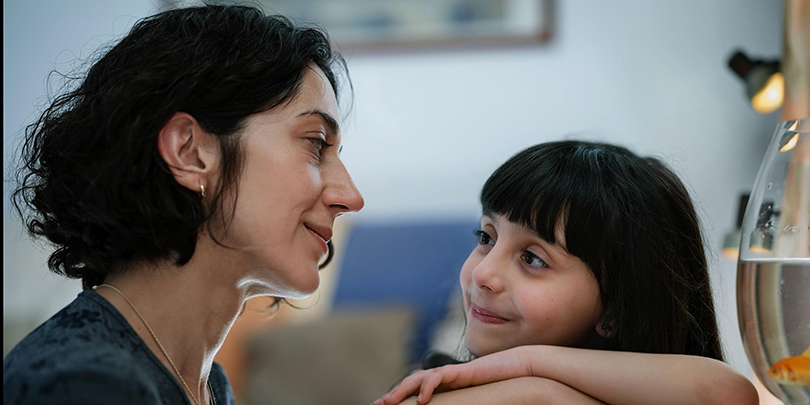 In Shayda, an Iranian mother and her young daughter seek shelter in an Australian women's refuge, looking for freedom from the domestic violence they have experienced. Source: Australian Catholics.
The film won the Audience Award at the Sundance Film Festival in 2023, and is the debut feature of Australian director Noora Niasari, who was born in Tehran. Niasari wrote, co-produced and directed the movie, which opened the 2023 Melbourne International Film Festival.
Set in 1995, Shayda (Ebrahimi) and six-year-old daughter Mona (Zahednia), escape to a women's shelter in Melbourne to put family violence behind them, and to seek community support. Shayda wants to hide from her estranged husband, Hossein (Sami), who re-enters her life. Hossein came to Australia to study as a medical student. Although Shayda finds shelter, she again faces the coercion and control from which she is trying to escape – Shayda is subject to a court order that gives Hossein unsupervised access to Mona, although he has been a constant threat to Shayda and Mona in the past, and he has abused Shayda.
Shayda fears that Hossein will abduct Mona and take her back with him to Tehran. Hossein behaves with a sense of entitlement and taunts Shayda with Iranian law that reinforces the rights of a husband and father.
French-Iranian actress Ebrahimi gives a commanding performance as Shayda, and embeds the viewer deep within her emotional anguish. Leah Purcell is excellent in the role of Joyce, a refuge worker who manages Shayda's crisis and tries to give her the support she needs
The movie strongly delivers messages about emotional trauma and women's rights, and explores in a personal way the courage, resilience and determination of a woman wanting to escape domestic violence.
This is a deeply affecting film that is beautifully acted, photographed and directed.
Review by Peter W Sheehan, Jesuit Media via Australian Catholics
Shayda: Starring Zar Amir Ebrahimi, Osamah Sami, Leah Purcell and Selina Zahednia. Directed by Noora Niasari. Rated M (Mature themes). 118 min.
FULL REVIEW
Shayda (Jesuit Media via Australian Catholics)