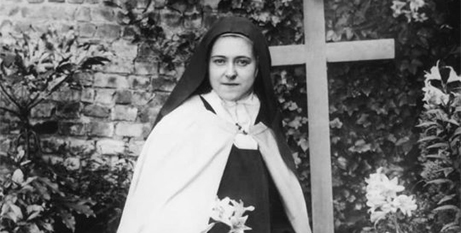 Pope Francis has commended the "little greatness" of St Thérèse of Lisieux in a new message focusing on the 19th-century Carmelite's relevance for the Church today. Source: CNA.
St Thérèse's "genius consists in leading us to what is central, essential and indispensable," the Pope wrote in an apostolic letter published yesterday.
The young saint, whose life and writings focused on love and following a "little way" of holiness, "shows that, while it is true that all the Church's teachings and rules have their importance, their value, their clarity, some are more urgent and more foundational for the Christian life", he said.
"From heaven to earth, the timely witness of St Therese of the Child Jesus and the Holy Face endures in all the grandeur of her little way," Francis wrote.
The Pope's latest in-depth reflection on a saint takes its title, "C'est la Confiance," or "It is Trust," from a quotation in one of Thérèse's letters: "It is trust and nothing but trust that must lead us to Love."
St Thérèse of Lisieux, also called St Thérèse of the Child Jesus and the Holy Face, or "The Little Flower," was a French Carmelite nun who died in 1897 from tuberculosis at the age of 24.
One of the Church's most beloved saints, she was proclaimed a Doctor of the Church in 1997, an honour granted to only 37 saints.
In her autobiography Story of a Soul, St Thérèse recounted her "little way" of holiness and her desire to spend heaven "doing good on earth." She is a patron saint of missionaries and her liturgical feast is October 1.
Though 2023 marks 150 years since Thérèse's birth and 100 years since her beatification, the message was published on the liturgical feast of the Spanish mystic St Teresa of Ávila.
Pope Francis said he did not want to publish a letter about St Thérèse of Lisieux on one of her own anniversaries because the significance of her message goes beyond these dates.
FULL STORY
Pope Francis highlights 'little greatness' of St Thérèse of Lisieux in apostolic letter (By Hannah Brockhaus, CNA)
RELATED COVERAGE
Pope: Therese of Lisieux teaches us love and trust in God's mercy (Vatican News)