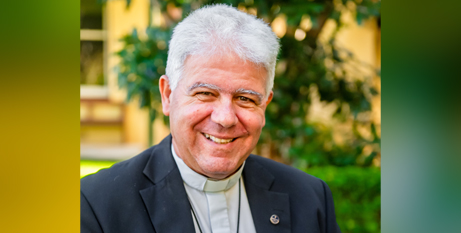 Despite the referendum to establish an Aboriginal and Torres Strait Islander Voice in the Constitution not succeeding, Australia needs to find a way to address the inequalities many First Nations people face, says Bishop Charles Gauci. Source: ACBC Media Blog. 
Bishop Gauci, chair of the Bishops Commission for Relations with Aboriginal and Torres Strait Islander Peoples and Bishop of Darwin, has issued a statement following Saturday's poll. He said although the idea of the Indigenous Voice to Parliament was not supported by a majority of Australians, "that doesn't mean we shouldn't do something".
"As I travel through the Northern Territory and beyond, I meet people from all walks of life who recognise that Aboriginal and Torres Strait Islander peoples – the traditional custodians of our lands and waters for tens of thousands of years – struggle with poor outcomes in health, education, employment and a range of other areas," Bishop Gauci said.
"Australians know those poor outcomes are not good enough in the nation of the alleged 'fair go'."
Bishop Gauci said that the Church, while not always living up to its own ideals, has been a driver of positive change for Aboriginal and Torres Strait Islander people through its parishes, schools, social services, and health and aged care services.
"At this moment in our history, it is time for the Church and its ministries to redouble our efforts to close the gap – not as a slogan, but as a commitment," Bishop Gauci said.
"That can only be done by, in the words of our recent Social Justice Statement, listening to, learning from and loving our Aboriginal and Torres Strait Islander brothers and sisters."
Some Catholic organisations who had publicly supported the Yes campaign expressed disappointment in the referendum result.
St Vincent de Paul Society National Council president Mark Gaetani said: "The decision not to enable First Peoples to have a greater say in government decisions impacting on their families and communities runs the risk of further disempowering them".
Jesuit Social Services chief Julie Edwards said the result was a "devastating outcome".
"It is a great shame that voters have not heeded the call of the Uluru Statement from the Heart, rejecting its generous invitation for a more welcoming and connected world in which First Nations people and communities can determine their own lives and flourish," Ms Edwards said.
Catholic Social Services Victoria executive director Joshua Lourensz said: "Inspired by the Gospel of Jesus Christ, we continue to hope and work so that "all may have life and have it to the full".
"I encourage all of us to continue standing in solidarity with First Nations communities and to close health and equality gaps for Aboriginal and Torres Strait Islander peoples."
FULL STORY
Catholic Church says referendum result should usher in new era (ACBC Media Blog)
Bishop Gauci's statement (ACBC)
No vote disappoints and concerns (St Vincent de Paul Society)
No referendum result a sombre outcome for all (Jesuit Social Services)
CSSV will continue to relentlessly pursue reconciliation (Catholic Social Services Victoria)