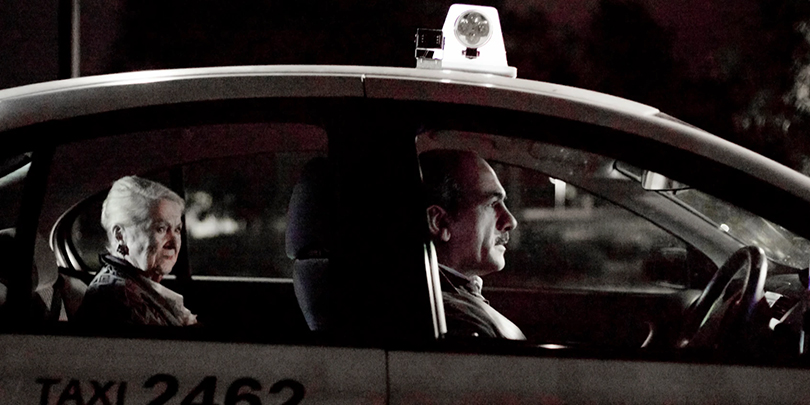 Damage is a personal film written and directed by Madeleine Blackwell. It is an Adelaide-based story, but also very much an Australian story. Source: Australian Catholics.
Ali (Ali Al Jenabi) is an Iraqi refugee without a visa. One night, he takes his turn driving a taxi around Adelaide, using the identity card of a fellow driver.
Suddenly, he is accosted by Esther, an elderly lady, who is vague and lost. She gets in Ali's taxi, but doesn't know where she wants to go. Esther is played by Imelda Bourke, a noted singer who is also the director's mother.
The tagline for advertising the film states that he wants to forget but that she can't remember.
Ali has flashbacks to various aspects of life in Iraq, bombings, sports events, personal experiences. It colours his perspective his defensiveness and has touches of aggression, especially when Esther challenges him by asking why he has come to "my country".
Esther has a lot of old prejudices against migrants and Muslims. There is a scene where the driver drops her at a Catholic church, and the pair discuss faith and different perspectives on God/Allah.
So, within the brief confines of a taxi ride, with an uncertain destination, two unlikely characters meet, confront, share and come to some understanding.
The film works well on this level of the interaction between two strangers. And, it makes audiences realise that there is a great deal of prejudice ingrained in Australian society that needs not only to be challenged, but to be experienced humanely, by authentic human contact.
Review by Fr Peter Malone MSC, Jesuit Media
Damage: Starring Ali Al Jenabi, Imelda Bourke. Directed by Madeleine Blackwell. 84 minutes. Classification not available.
FULL REVIEW
Damage (Jesuit Media via Australian Catholics)