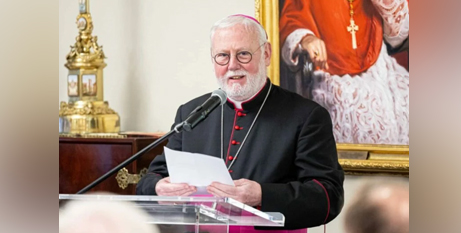 Religious freedom is not merely a human right but is also a path to promoting peace in an increasingly complex world, the Vatican's Secretary for Relations with States, Archbishop Paul Gallagher, said this week. Source: The Catholic Weekly.
In a lecture hosted by the Australian Catholic University in Sydney on Monday, the 69-year-old archbishop, who served as apostolic nuncio to Australia from 2012-2014, spoke on the role of religious freedom in promoting harmony and peace, resolving conflicts and preventing religious extremism and violence at a time when forced migration due to religious discrimination has reached "unprecedented levels".
Despite religion being blamed for many current-day conflicts, Archbishop Gallagher argued that authentic religious freedom with its respect for diversity and the human person, is a powerful social cohesive, preventing radicalisation and fostering co-operation and conflict resolution at local and international levels.
As such, well-defined legal frameworks for the protection of belief and the ability to act on one's belief are "essential."
"Sadly, throughout history and continuing into the present day, religion, instead of being a harmonious force, has become a driving force in many political disputes," Archbishop Gallagher said.
"Furthermore, religious extremism, territorial disputes with religious significance, discrimination against religious minorities and the role of religious leaders are all contributing factors in the complex landscape of religiously-motivated conflicts.
"In this regard, Pope Francis often describes the current state that we live in as a third world war being fought piecemeal, and affirms that no civilised society can be built without repudiating every ideology of evil, violence and extremism that presumes to suppress others and annihilate diversity by manipulating and profaning the sacred name of God.
"At the same time there is a deep conviction, especially among people of faith, that religious freedom has a generous role to play in transmitting hope while also offering the promise of peace, mutual understanding and eventual conflict resolution in our increasingly complex and interconnected world."
FULL STORY
Religious freedom is a path to peace, Archbishop Paul Gallagher says on Australian tour (By Marilyn Rodrigues, The Catholic Weekly)