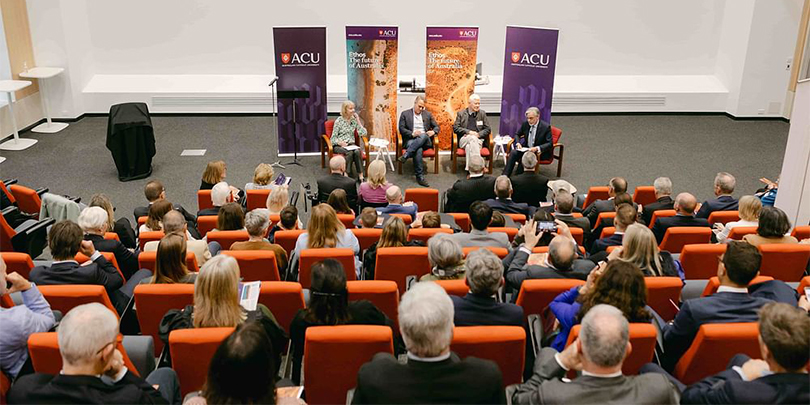 Australian Catholic University and the PM Glynn Institute hosted a panel discussion in Melbourne last week on how to achieve ethical housing policies. Source: Melbourne Catholic. 
The November 2 discussion was part of the university's Ethos 2023 series of events. The gathering also saw the official opening of ACU's new Julien O'Connell Lecture Theatre and to celebrate the man in whose honour it was named.
The Ethos events, which have been held this year in Sydney, Brisbane and Melbourne, focus on "the big public ethics issues of the day and what they mean for the future of Australia".
With housing becoming more inaccessible for many Australians, especially those who are struggling, the event at ACU's Melbourne campus brought together three panellists — McAuley Community Services for Women chief executive Jocelyn Bignold, former federal MP and minister Tim Wilson, and Catholic philosopher Professor John Haldane — to explore the ethical aspects of this issue, and to discuss how we might begin to navigate the many competing economic and social considerations involved.
Dr Bignold said less than three per cent of all housing stock in Victoria is public or social housing.
"And the eligibility for public housing is really based on what I would say is a deficit model — that is, you have to choose how badly off you are in order to qualify," she said. "The worse the circumstances the better. And so that really does nothing for the dignity of the human person in front of us.'
To ensure that access to housing is available on an ethical basis, Dr Bignold said, we need to examine the purpose of housing. "Once we establish the purpose of housing, then we've got a much better place to decide how to distribute the resources as a common good."
Mr Wilson said responses to the housing crisis need to be informed by "the type of country we actually want to be".
The deprioritising of home ownership, he argued, has been a "fundamental error".
FULL STORY
'What sort of society do we want to be?' Ethos 2023 panel explores ethical responses to the housing crisis (Melbourne Catholic)