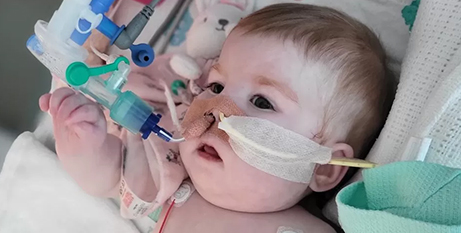 Indi Gregory, the British girl whose parents battled the British courts to have her life support extended, died yesterday. Source: OSV News.
In a statement, Indi's father, Dean Gregory, said he and his wife, Claire, "are angry, heartbroken and ashamed. The NHS [National Health Service] and the courts not only took away her chance to live a longer life, but they also took away Indi's dignity to pass away in the family home where she belonged."
Jacopo Coghe, spokesman for Italian pro-life foundation Pro Vita Famiglia, shared the father's words on X, formerly Twitter.
"They did succeed in taking Indi's body and dignity, but they can never take her soul," Mr Gregory said. "They tried to get rid of Indi without anybody knowing, but we made sure she would be remembered forever.
"I knew she was special from the day she was born," he said, adding that his wife "held her for her final breaths."
Indi had a rare degenerative disorder known as mitochondrial disease, and her family was fighting a court order that she be removed from life support, as was the case of several other children in the past, including Alfie Evans and Charlie Gard.
Indi, who was eight months old, was transferred from the Queen's Medical Centre in Nottingham to a hospice on Saturday, according to a statement on Sunday issued by Christian Concern, an advocacy group helping the family.
At the hospice her life support was removed. At some point she stopped breathing during the night between Saturday and Sunday, but then recovered. Indi died yesterday at 1.45am GMT.
The Vatican released a statement on Saturday saying: "Pope Francis embraces the family of little Indi Gregory, her father and mother, prays for them and for her, and turns his thoughts to all the children around the world in these same hours who are living in pain or risking their lives because of disease and war."
FULL STORY
Indi Gregory, British girl whose life support was halted by court, dies (OSV News)