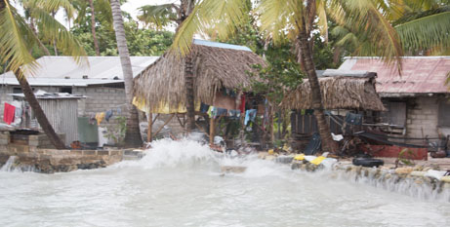 The Pacific region is facing a perfect storm of climate change-induced disasters and skyrocketing debt burdens, according to a new report. Source: Caritas Oceania.
This, combined with the shocks of COVID-19 and the international cost of living crisis, could lead to unprecedented economic instability in Australia's neighbourhood without immediate intervention.
Caritas Oceania and Jubilee Australia Research Centre's latest report, Twin clouds on the horizon: averting a combined climate and debt crisis in the Pacific through locally-delivered climate finance, is the first report to look in detail at debt, climate change and their combined impacts on the Pacific region.
The report calls for international governments, including the Australian Government, to take the lead on climate debt in the Pacific and ensure that money gets into the hands of those who need it most, through restructuring debt, improving climate finance and funding the Pacific Resilience Facility.
"If we continue to sidestep our responsibility to finance climate solutions in our neighbourhood, then we're looking at probable economic instability in our region and the very real suffering it brings," said Kirsty Robertson, Caritas Australia's CEO.
The Pacific Islands region is at the frontline of global climate change, facing rising sea levels, extreme weather events like cyclones and king tides more frequently, and with greater severity and impact than ever before. It's harder than ever for Pacific Island nations to recover and build back, as they are being hit by one disaster after another, often while still rebuilding from the last one.
"We are at a very critical time in our fight for climate resilience, especially in the Pacific, which is facing existential threats from climate change. The world's challenge is to listen and see with attentive ears and eyes the struggle of those on the frontlines of climate change, and to have the courage to take action in solidarity," said Cardinal Soane Patita Paini Mafi, Caritas Oceania Regional President.
"Climate finance is, at its heart, the repayment of a debt owed by countries that caused climate change to those that experience its worst effects. High-income countries have been shirking that debt for years. It is essential that wealthy countries like Australia step up and meet their obligations to those on the front lines of climate change," said Luke Fletcher, Executive Director at Jubilee Australia.
FULL STORY
Storm brewing over Pacific as climate and debt crises collide (Caritas Oceania)