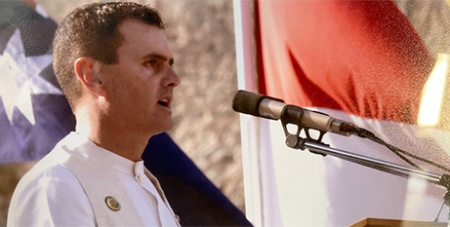 Canberra priest Fr Richard Thompson remembers firsthand the horror of the Bali bombings 20 years ago today that claimed the lives of 202 people, including 88 Australians. Source: The Catholic Leader
Fr Thompson was 45 and had just been posted as a senior navy chaplain to HMAS Albatross, when Islamic fundamentalists linked to al-Qaida detonated three bombs in the Indonesian holiday province.
Immediately, Fr Thompson was airlifted to Bali to play a pivotal role supporting Australian bomb survivors, the families of victims and government officials including police and forensic experts working on identifying the dead.
He recalled "the shock, the trauma" and the confronting work that faced the newly arrived Australian forensic and disaster identification experts.
"We were working at the makeshift morgue," he recalled. "It was terrible, like any first-responder stuff."
The grisly task at hand was to positively identify badly burned bomb victims, mainly using dental records.
"I was really just supporting the families and getting details from them, of their family members who they were looking for," Fr Thompson said.
"And… making sure that we were with the families when that notification came through – so they didn't just get a text message."
In the days following the bombings Fr Thompson presided over a memorial Mass for families and survivors. And he was recalled to Bali a year after the bombings for a memorial attended by Australian prime minister, John Howard, the Indonesian president, Susilo Bambang Yudhoyono, and faith leaders.
As he prepared for a Mass to commemorate the 20th anniversary, he said he would pray for peace.
Fr Thompson reflected on the current state of the world: "I can't believe that there's a war in Ukraine. That just astounds me. And then North Korea, and Taiwan. Sometimes I say, 'have we learnt nothing?'"
FULL STORY
Priest recalls the horror of the Bali bombings, prays for peace (By Mark Bowling, The Catholic Leader)
RELATED COVERAGE
The assault on paradise (ABC News)
A father's farewell to daughters in Bali (Manning River Times)