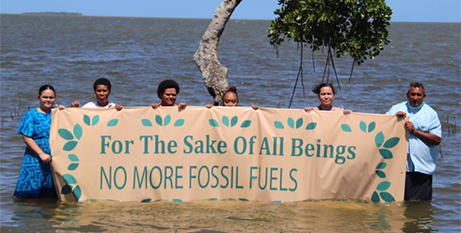 The Albanese Government has been urged by 100 Australian, Indigenous and South Pacific faith leaders to halt approvals for coal and gas projects and end fossil fuel subsidies to combat climate change. Source: The Australian.
Ahead of multi-faith services for climate justice today, Catholic, Anglican, Islamic, Uniting Church, Jewish, Hindu and Buddhist leaders said, "Australia is a wealthy country that profits from exports that are causing the crisis".
In a letter to Prime Minister Anthony Albanese, faith leaders said, "we hear the cries of anguish from those most vulnerable in the human family who are losing their lives, livelihoods and homes through climate-fuelled disasters".
"The current level of warming is not safe. This moment in history calls for an urgent, courageous, visionary response, especially from those in power," the letter said.
"Australia's leadership in this response, as part of its first ­nations foreign policy, is vital for the vulnerable communities and ecosystems who depend on it."
Religious leaders including Cardinal John Ribat of Port Moresby, Anglican Primate of Australia Geoffrey Smith, Grand Mufti of Australia Ibrahim Abu Mohammed, Uniting Church Australia president Sharon Hollis signed the letter.
The push by the Australian Religious Response to Climate Change group comes as the head of the Church of England, Archbishop of Canterbury Justin Welby, tours flood-ravaged communities across the country this week.
Despite Mr Albanese lifting Australia's 2030 emissions reduction target to 43 per cent and pledging to achieve carbon neutrality by mid-century, religious, environmental and activist groups want the government to move faster.
Pacific Conference of Churches general secretary, the Reverend James Bhagwan, welcomed the "willingness of the new Australian government to listen to the peoples of the ­Pacific" but said coal and gas were a "threat to our survival".
FULL STORY
Religious urge Anthony Albanese to act on fossil fuels (By Geoff Chambers, The Australian)