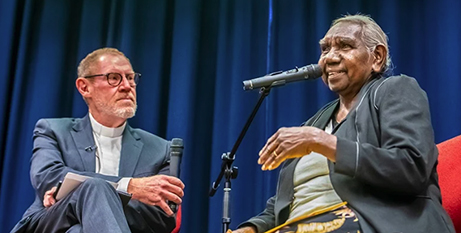 Catholic Aboriginal elder and educator Miriam Rose Ungunmerr-Baumann has called on Catholics to engage in reconciliation with Australia's Indigenous peoples by learning about them and listening to their stories. Source: The Catholic Weekly
"People ask me, how do we work with the First Nations people? And I tell them, you have got kids in your schools all around Australia, start there, and invite their families to get involved as well," Dr Ungunmerr-Baumann said.
"I suggest they learn about the country their schools and parishes are on. Find out what language group it is and learn about them, sit down and listen to each other.
"I ask you to act as an ambassador, to continue this journey of walking together and deeply listening to each other, so that all Australians feel heard and understood. And through this, true reconciliation can occur."
Dr Ungunmerr-Baumann made her comments at an evening on Aboriginal Catholics and Reconciliation hosted by the Sydney Archdiocese's Justice and Peace Office at St Mary's Cathedral College Hall on October 7.
The youth advocate was the first Indigenous teacher in the Northern Territory and has dedicated her life to helping young Australians "walk in both worlds" as she does.
"The biggest gift the nuns who educated me gave me was to tell me, 'You have got to learn to walk in two worlds' and this has influenced my work ever since," she said.
"Teaching has given me the opportunity to teach the kids in my community our culture but has also given me the opportunity to teach kids around Australia about us, our culture, our ways and our spirituality."
FULL STORY
Invitation to live together (By Marilyn Rodrigues, The Catholic Weekly)