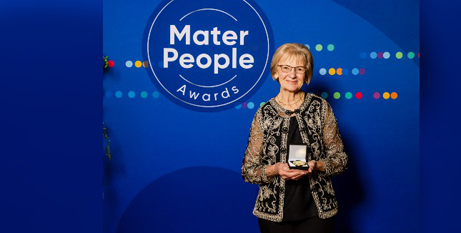 More than 150 guests from across Queensland attended the 2022 Mater People Awards recognising outstanding achievements across Mater's health, education, research and foundation ministries. Source: Catholic Leader.
Winners of 14 Awards were selected from 65 finalists and were among a record 400 nominations.
The annual event was held at the Princess Theatre, South Brisbane, on October 14, with Mater Board Deputy Chair Virginia Ryan and Mater Chief Executive Officer Peter Steer presenting awards in recognition of the outstanding achievements by individuals and teams across the organisation's network of 11 hospitals, as well as Mater Research, Mater Education and Mater Foundation.
Dr Steer said Mater People did extraordinary things every day.
"Through collective commitment and expertise, during what has been a challenging year, Mater People have continued the legacy of our founders, the Sisters of Mercy, and delivered transforming and healing care across Queensland," he said.
"Their dedication and commitment changes people lives every day."
The Catherine McAuley Mater Lifetime Contribution Award went to Mater Private Hospital Bundaberg hospitality manager Gayle Knickel for more than 38 years of dedicated service.
The award, named in honour of the founder of the Sisters of Mercy, Catherine McAuley, recognises a Mater person for their outstanding lifetime contribution as well as their commitment to Mater's values and mission to address unmet community need and deliver excellence in care.
FULL STORY
2022 awards celebrate achievements across Mater group (The Catholic Leader)