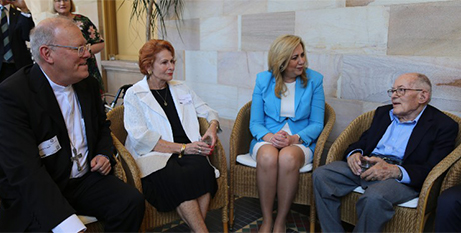 Bert Klug, a 100-year-old Holocaust survivor, was on hand as the Queensland Government announced that a Holocaust Museum and Education Centre will open in the grounds of Brisbane's St Stephen's Cathedral precinct. Source: The Catholic Leader.
The centre will open in early 2023 with the aim of educating Queenslanders about the Holocaust and remembering its horrendous legacy.
"Those events are deeply ingrained in my memory and I have never forgotten them," Dr Klug said of the genocide of European Jews during World War II.
He grew up in present-day Slovenia and survived Nazi persecution, including two years in a concentration camp. Dr Klug migrated to Brisbane in 1948 and studied medicine.
He was a guest of honour at Parliament House in Brisbane as Premier Annastacia Palaszczuk announced the Queensland Holocaust Museum and Education Centre will to be housed for the next two years in the Cathedral Precinct's Old Archives Building and Penola Place in Charlotte and Edward streets.
The project is being set up through state government funding of $3.5 million, matched by an Australian Government commitment of $3.5 million and a Brisbane City Council pledge of $500,000.
Brisbane Archbishop Mark Coleridge said it was an honour to partner with the Jewish community to host the new centre.
"As a society, we need to work together towards a common goal that overcomes hatred and promotes peace. We need to build bridges, not walls," he said.
"Inter-religious partnerships like this send a strong signal to the community that we are all sisters and brothers in a world where the other is not my enemy."
FULL STORY
Holocaust museum for Brisbane's Cathedral precinct (By Mark Bowling, The Catholic Leader)
RELATED COVERAGE
Holocaust Museum and Education Centre-welcomed (Brisbane Archdiocese)