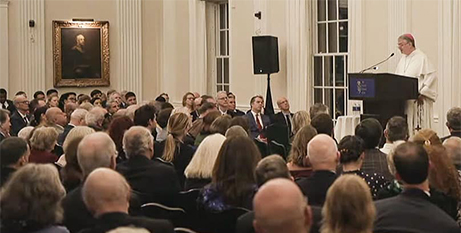 In a speech in the United States, Sydney Archbishop Anthony Fisher OP outlined his wide-ranging vision of the Christian task in the midst of a world growing hostile to faith. Source: The Catholic Weekly.
"For Christianity to do great things for humanity again, it must recover its voice," Archbishop Fisher has told attendees at the 35th Erasmus Lecture in New York City.
"We must 'speak the truth in love' boldly and in words and deeds. We must reject the privatisation and bracketing that would make it irrelevant.
"We must see the current chastisement of the Church as an opportunity for purification and a promise of resurrection."
The annual Erasmus Lecture is an initiative of the US journal of religion and public life First Things. Archbishop Fisher's lecture on October 24 was on the topic "The West: Post-Christian or Pre-Christian?".
He said the claims that Christianity is in terminal decline and that we now live in a post-Christian world are overstated.
"The aggression of some ex-Christians, neo-pagans and faux Christians towards real Christianity pays tribute to its continuing spiritual power," Archbishop Fisher said.
While Christians do not wish for "political conflicts, culture wars, discrimination and institutional diminishment", they are opportunities to witness to the Gospel.
"When we do these things, we are not post-Christian, or pre-Christian, or insipidly pseudo-Christian. Amidst all the complexity, we are authentically Christian."
FULL STORY
A Christian revival (By Adam Wesselinoff, The Catholic Weekly)