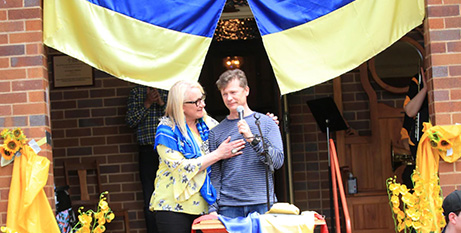 A community effort to transform an empty convent in the Bathurst Diocese into a home for Ukrainian refugees has paid off, with two families moving in last weekend. Source: ABC News.
Hundreds of volunteers worked to renovate the old Molong convent, located in the central west of New South Wales, with the blessing of the local Catholic parish.
"I hope that this project inspires other communities, not just in the city but in the bush as well, to find that practical thing that they can do to help people in need," Fr Greg Bellamy said.
The convent, vacant since the last Sister of St Joseph moved out, is now comfortable accommodation for nine Ukrainians.
Earlier this year residents were temporarily housing Ukrainian refugees in their own homes. Workers are in high demand in the region and rental properties are scarce.
After arriving in Australia in May, Alex Volodin's family was the first to settle in the central west.
He quickly found a job at a mining engineering firm and says he is extremely grateful to be able to call Australia home.
"Here a lot of people support me, and my family and I say thank you," he said. "I am happy here, and my family are very very happy."
His wife Vika is starting a small business as a seamstress and his oldest son will start the transition program at St Joseph's Catholic Primary school on Friday, which is next door to his new home.
Anna Kovalenko and her family will be the other residents in the convent. Fr Bellamy said the congregation was invigorated by her offer to play music at their services.
Over 100 volunteers and countless local businesses have taken responsibility for transforming the house. Each room has been renovated by a different school, community group or organisation.
FULL STORY
A renovated convent has become a home for Ukrainian refugees in Central West NSW (By Xanthe Kleinig and Makayla Muscat, ABC News)
RELATED COVERAGE
How the community of Orange has embraced Ukrainian refugees with open arms (ABC News)