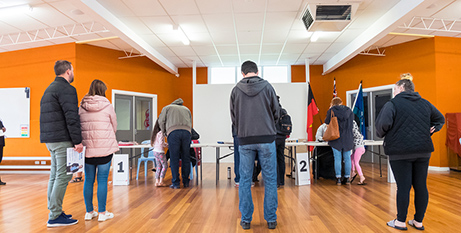 Victoria's bishops have written to the state's Catholic community to provide an election guide designed to help them consider and navigate key issues of significance, particularly those related to the common good.
The Victorian state election will take place on Saturday, November 26. Labor Premier Daniel Andrews is seeking a third term, while the Liberals leader Matthew Guy is hoping to pick up enough seats to oust the Andrews Government.
The letter to Victoria's Catholics was released yesterday and is signed by Melbourne Archbishop Peter A Comensoli, Sandhurst Bishop Shane Mackinlay, Ballarat Bishop Paul Bird CSsR and Sale Bishop Greg Bennet.
The bishops said it was important for voters to carefully and prayerfully discern who best deserves their vote this state election.
"As Pope Francis outlines in Fratelli Tutti, we are all called to 'direct society to the pursuit of the common good', and voting thoughtfully is part of this duty," the bishops write.
"There is no Catholic political party and no single way that a Catholic should vote. Each of us are called to exercise our conscience, utilise our intellect and draw upon our faith in our decision-making.
"With the state election, it is important that we each carefully and prayerfully discern who best deserves our vote. This discernment may be based on many considerations – the past performance of individuals or parties, the promises of action or of funding to come. Our faith calls us to seek parties and individuals who will enact laws that advance the common good."
The bishops directed Catholic voters to information to help "navigate these issues of significance" at www.melbournecatholic.org/stateelection2022 and asked people to "join with us in praying for the whole community at the time of this State Election, including for those who seek office and their families".
FULL STORY
The Victorian State Election and the Common Good (Melbourne Archdiocese)