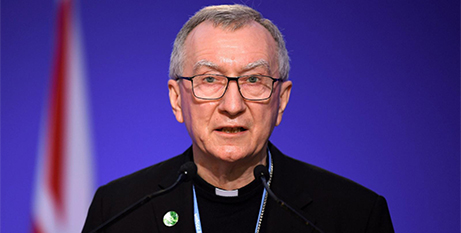 In the Holy See's latest bid to help bring an end to the war between Ukraine and Russia, Vatican Secretary of State Cardinal Pietro Parolin will this week preside over a special Mass for peace in Ukraine. Source: Crux.
The Apostolic Exarchate for Ukrainian Catholics of the Byzantine rite living in Italy announced that Cardinal Parolin will celebrate the Mass on Thursday at the basilica of St Mary Major in Rome.
The Mass, which is being jointly organised by the Vatican Secretariat of State, the Sovereign Order of Malta, and the Ukrainian Embassy to the Holy See, also coincides with the 30th anniversary of restoration of full diplomatic relations between Ukraine and the Holy See, when the late Pope John Paul II established the apostolic nunciature in Kyiv.
The Mass will be concelebrated by other cardinals, bishops and priests of both the Roman and Greek-Catholic Churches.
The Mass comes at a time when the Vatican is seeking to cement itself as a viable intermediary in peace negotiations between Russia and Ukraine.
Speaking to journalists last month, Cardinal Parolin said a spokesman for the Russian government indicated that their position "was open to dialogue, including with the Pope," but that "so far we don't know what these words mean, what development they will have".
"Now we will see, we will study, it is a declaration that has just been made … we are reflecting on what could eventually be done," he said.
However, Cardinal Parolin insisted that it was still "too early" for any such a diplomatic initiative but he reiterated that the Vatican is "open and willing to do everything possible. If there is a small opening, we will certainly take advantage of it."
FULL STORY
Top Vatican diplomat to celebrate Mass for peace in Ukraine (By Elise Ann Allen, Crux)