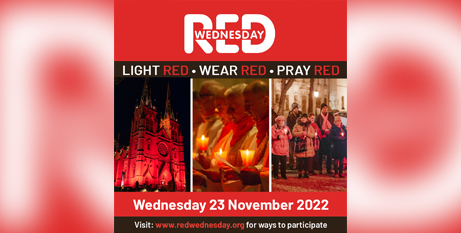 Australian cathedrals will be illuminated in red next week as part of the international Red Wednesday campaign to call attention to religious freedom and persecuted Christians. Source: ACN.
Red Wednesday is an annual global campaign from the Pontifical foundation, Aid to the Church in Need.
People all over the world will be reminded of the plight of persecuted Christians and the lack of religious freedom in many countries during the month of November, with buildings and landmarks in several different countries illuminated in red, and a series of special initiatives, prayer actions and witnesses.
In Australia, 10 cathedrals will be illuminated on Red Wednesday on November 23. St Christopher's Cathedral in Canberra will hold a "Night of Witnesses" prayer event, which will see banners of a series of recent martyrs processed into the cathedral with testimonies from special guests including Pakistani Cardinal Joseph Coutts.
The official international launch of the campaign will take place today with the release of Persecuted and Forgotten? A Report on Christians oppressed for their Faith 2020–22 in the British Parliament. The report specifically addresses the worldwide situation of persecuted Christians every two years. The report will be presented in other countries during the following weeks.
Red Wednesday traces its roots to Brazil in 2015, when the local ACN office had the Christ the Redeemer monument lit in red to mark the persecution of Christians in Iraq. In 2016, inspired by the same idea, ACN Italy illuminated the Fontana di Trevi. ACN UK took the idea further and created #RedWednesday to commemorate all persecuted Christians on a specific Wednesday in November, and this was later expanded to a whole "Red Week" in some countries.
FULL STORY
From Canberra to Vienna, ACN highlights religious freedom and persecution of Christians in November (ACN)