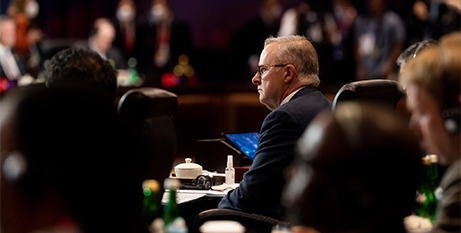 Prime Minister Anthony Albanese has told world leaders that Australian food exports could help avert global famine and declared the country's prospects as a green energy giant will prove decisive in the shift to a low-carbon future. Source: The Australian.
As Ukrainian President Volodymyr Zelensky warned G20 leaders Russia was using energy supplies as "a weapon" and threatening global famine, Mr Albanese said Australian agricultural exports could ease rising food insecurity.
In a closed-door "intervention" in the G20 debate in Bali on food and energy, Mr Albanese condemned Russia's "illegal" invasion of Ukraine and urged freer trade and enhanced agricultural productivity.
Chinese President Xi Jinping told the G20 that the world should resolutely oppose attempts to politicise food and energy issues or use them as tools and weapons.
Mr Xi said food and energy security was the most pressing challenge in global development, and the best way out of the crisis was to unclog supply chains, remove unilateral sanctions and develop an open, stable and sustainable commodities market.
Mr Albanese called on fellow leaders to back the G20's common framework to manage the growing debt sustainability challenge facing vulnerable economies.
Looking forward, he spoke about the need for countries to decarbonise their economies, offering long-term Australian support through green energy exports.
G20 host Joko Widodo warned food insecurity being felt across the developing world could become a crisis is fertiliser production didn't increase.
UN Secretary-General Antonio Guterres told G20 leaders that food and energy insecurity was threatening global famine.
FULL STORY
Australia can help feed the world, Anthony Albanese tells G20 leaders (By Ben Packham and Amanda Hodge, The Australian)