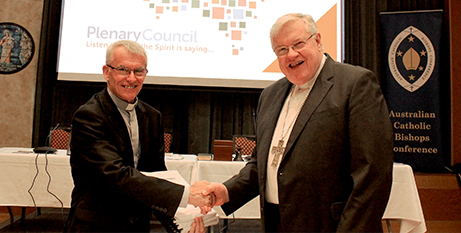 The Australian Catholic Bishops Conference has formally approved the acts and decrees of the Fifth Plenary Council, which will now be sent to the Apostolic See for review. Source: ACBC Media Blog.
The documents, which comprise five volumes across hundreds of pages, were received at the Bishops Conference's plenary meeting last week.
As the acts and decrees were received, the bishops sang the Te Deum, acknowledging the solemnity of the moment in the life of the Church in Australia.
"It was quite a poignant moment as we sensed – once again – the significance of the Council in the life of the Church in Australia," said Bishops Conference president Archbishop Timothy Costelloe SDB, who also served as president of the Plenary Council.
"In fact, my recent trip to Rome underlined how closely the Church around the world was watching the Plenary Council and how aspects of it are being lived out through the global Synod for a Synodal Church."
The decrees are available on the Plenary Council website, where they were published after the Council's second assembly.
The Bishops Conference also approved the terms of reference for the review of the implementation of the Plenary Council. The terms of reference were set out by the Bishops Commission for the Plenary Council, which concluded its work at last week's plenary meeting.
Plenary Council vice-president Bishop Shane Mackinlay said the work of implementation – the Council's third and final stage – will be critical.
The implementation phase will see oversight and coordination for each decree of the Plenary Council entrusted to at least one of the Bishops Conference's commissions.
Those commissions will provide reports to the May 2023 plenary meeting of the Bishops Conference. Another review will be undertaken in 2025, with a final review report to be published in 2027.
The terms of reference for the implementation phase of the Council have been published on the Plenary Council website: www.plenarycouncil.catholic.org.au.
FULL STORY
Bishops formally approve Plenary Council acts, decrees (ACBC Media Blog)