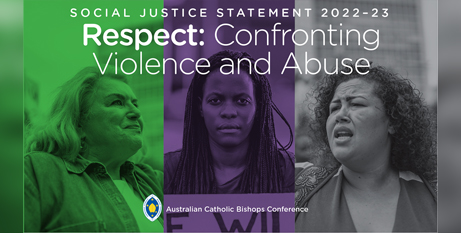 The Australian Catholic Bishops Conference's statement on domestic and family violence will be a focus for an online event next week to mark the International Day for the Elimination of Violence Against Women.
The bishops' annual social justice statement for 2022-23, titled Respect: Confronting Violence and Abuse, was published in August.
It points out that the roots of domestic and family violence "lie in the abuse of power to control and dominate others" and that "this stands in contrast to the relationships to which God calls us".
Bishop Vincent Long OFM Conv, chair of the Bishops Commission for Social Justice, Mission and Service, said the November 25 event will help keep the issue and the bishops' statement front of mind.
"The bishops and our collaborators work diligently in preparing these statements with the desire that they help spark discussion, change hearts and minds, and effect change," he said.
"The International Day for the Elimination of Violence Against Women is another moment to stop, to consider the devastating consequences of domestic and family violence and recommit to individual and societal transformation."
Catholic Social Services Australia executive director Monique Earsman, who will serve as the event's MC, said the social justice statement has made an important contribution to the national and the faith-based conversation.
"Respect: Confronting Violence and Abuse places domestic and family violence at the centre of Catholic conversations, which is so important because we each must play a role in putting an end to this national tragedy," she said.
Other speakers at the event will include Christine Carolan, executive officer of Australian Catholic Religious Against the Trafficking of Humans, and Jesuit Refugee Service project coordinator Shatha Jajo.
Michael Jeh, an ambassador for Small Steps for Hannah, an organisation set up by the family of Hannah Clarke and her three children who were murdered by her partner and their father in Brisbane in 2020, will also address the gathering.
Details and registrations: bit.ly/25NovSJS
FULL STORY
Church renews focus on domestic and family violence (ACBC Media Blog)