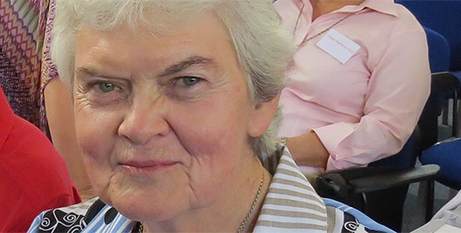 Sr Philomene Tiernan RSCJ was a force to be reckoned with, patient, determined and strong, but to Dermot Tiernan she was simply his Aunty Phil. Source: Margaret River Mail.
Outside her sprawling family, Sr Phil was well known in Catholic religious and education circles, and she was at one time the head of the Society of the Sacred Heart order in Australia and New Zealand.
Sr Phil, 77, was among 298 passengers and crew who died when Malaysia Airlines flight MH17 was shot down over Ukraine on July 17, 2014.
There were 38 Australian citizens and residents on board flight MH17.
In an eerie twist of fate, Sr Phil's death mirrored that of her uncle Pat, an RAAF airman who was shot down over the Netherlands after a bombing mission to Germany in 1944.
She'd been in Europe for the dedication of a war memorial in his honour. While in the region, she'd also attended a retreat in Ireland for Sacre Coeur schools.
Sr Phil was one of the last MH17 victims to be identified, and it was almost a year until her remains could be brought home.
Sr Phil's nephews Dermot and Ray, and Dermot's 18-year-old daughter, Harriet, attended the murder trial verdict of the four suspects accused of the downing of MH17 in The Netherlands yesterday.
Two Russians and a Ukrainian were convicted of murder and one Russian defendant was acquitted, ABC News reports.
The offenders, who remain at large, were tried in absentia as Moscow refused to hand them over. It means they are unlikely to serve the life sentences handed down by the court, nor pay the 16 million euros ($28.8 million) in compensation they have been ordered to pay.
FULL STORY
MH17 verdict: Sister Philomene Tiernan's last miracle after she died (By Nadine Morton, Margaret River Mail)
Australian families welcome 'some justice' as three convicted, one acquitted over MH17 attack (By Nick Dole, ABC News)