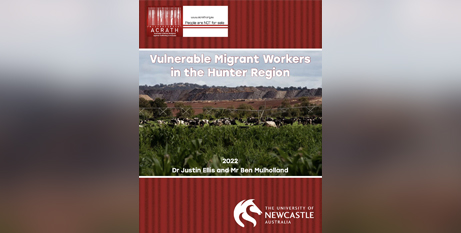 Migrants and refugees working in New South Wales' Hunter region face complex challenges, including wage theft, according to new research by the University of Newcastle in collaboration with Australian Catholic Religious Against Trafficking in Humans (ACRATH).
Justin Ellis, lead author and criminologist from the University of Newcastle's Centre for Law and Social Justice, said his team's findings pointed to a systemic issue across Australia. Dr Ellis found that these new locals faced a lack of access to secure employment, which made them particularly vulnerable to exploitation.
"The issues we are seeing at the local level in the Hunter region are also occurring at a national level," Dr Ellis said.
"Our research found that while wage theft is systemic across industries and demographics, migrant workers are particularly vulnerable.
"For example, they're particularly vulnerable due to factors like access to secure employment, unrecognised qualifications, low English literacy, access to affordable quality housing and lack of access to in-country knowledge about workers' rights and conditions."
The researchers found these factors can lead to a spectrum of exploitation including an underpayment of wages and superannuation; ambiguity over leave entitlements; inconsistent pay rates across sector sites through labour hire companies; coercion – threats of cancellation of visas; lack of access to legal representation and justice, and delays in processing of applications for permanent residency.
This work is the first comprehensive investigation into the exploitation of vulnerable workers in the Hunter region. It found the industries where this has occurred included agriculture (farm labour, fruit picking, grape picking), hospitality (food and beverage, cleaning), meat processing and house painting.
FULL STORY
Exploitation of migrant workers highlights systemic issue across Australia (University of Newcastle)
RELATED COVERAGE
Vulnerable Migrant Workers (ACRATH)