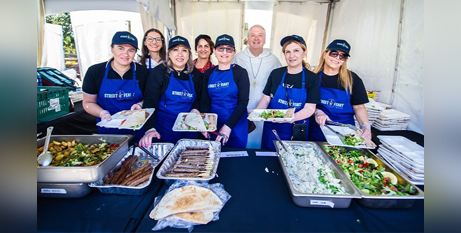 Sydney's Street Feast at St Mary's Cathedral forecourt has celebrated the inspiring work of the Church in its outreach day in and day out to those who are doing it tough. Source: The Catholic Weekly.
More than 100 volunteers welcomed charitable organisations and their guests from across the city to an alfresco banquet of barbecued meats, falafel, salads, and dessert lovingly prepared by members of the St Merkorious Charity.
An initiative of the Sydney Archdiocese's Justice and Peace Office with the PAYCE Foundation and Brooks Community Engagement, the feast on November 18 began with an acknowledgement to country by Michael Walker in the Gadigal language and continued with entertainment provided by live musicians and the Sydney Street Choir.
Sydney Archbishop Anthony Fisher OP welcomed the guests to the lunch and led them in grace before the start of the one of the biggest feel-good events of the Church in Sydney that has been held outside the cathedral each year since 2017.
The Street Feast was held to celebrate the sixth World Day of the Poor, with the theme "For your sakes Christ became poor" (2 Corinthians 8:9).
With a Street Feast for World Day of the Poor now being held in Parramatta diocese as well, Justice and Peace Office promoter Fr Peter Smith said he hoped to see it spread further afield to every diocese in the country.
"It's a great celebration of Catholic charities who do such good work, often unnoticed, every single day of the year," he added.
FULL STORY
Faith provides a Feast (By Marilyn Rodrigues, The Catholic Weekly)