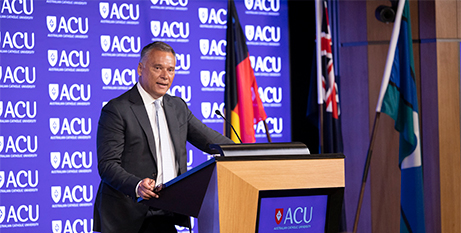 Discussions about religious freedom in Australia should aim to unite the nation rather than divide it, guests at the Australian Catholic University's sixth Parliamentary Interfaith Breakfast have heard.
More than 160 guests, including about 50 faith leaders and 50 parliamentarians, gathered for the breakfast at the National Press Club in Canberra yesterday, after a two-year hiatus due to the pandemic.
Respected journalist and Wiradjuri elder Professor Stan Grant told the breakfast that love for neighbour, even in the midst of evil, had the power to unify all people no matter what their beliefs.
Speaking to his Indigenous heritage, Professor Grant said love was at the core of the Uluru Statement of Heart.
"I know we're going to a referendum, and there are words to be spoken and arguments to be had, and that's what a democracy does. Can you read and deny to me that you are not hearing words of love, that there is not the hand of God in the words of that page?"
Federal Attorney-General Mark Dreyfus referred to the national debate on freedom of religion in Australia in his address.
While previous debates about religious freedom had been "unnecessarily divisive", Mr Dreyfus said a genuinely inclusive society could only be achieved "by working together".
"It's my strong belief that these are matters that should be above party politics," Mr Dreyfus said.
Opposition Leader Peter Dutton said based on the growing faith communities in Australia, the nation was "far from being a godless country".
"Religious tolerance is therefore in our national DNA but it is being tested. We must call out religious intolerance wherever it manifests, regardless of the faith it is targeting."
ACU Vice-Chancellor and President Professor Zlatko Skrbis said the breakfast "serves as a unique opportunity to provide a space for open dialogue, where conversations can take place that concern our democracy, our community, our culture, and the role that faith plays in our everyday lives".
FULL STORY