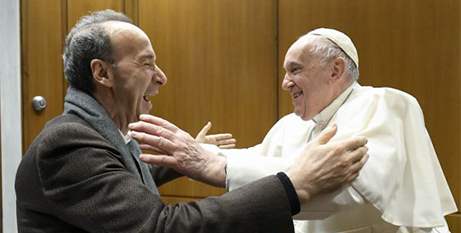 Pope Francis spoke yesterday about how freeing it can be for people to let go of the things that they are most attached to in life and place them in God's "benevolent hands". Source: CNA.
In his general audience, the Pope said that in the face of rejection, when things do not go our way, it is good to remember that "only God knows what is truly good for us".
Sometimes there can be a lesson from the Lord in a denial of what we want, the Pope explained, adding: "This is not because He wants to deprive us of what we hold dear, but in order to live it with freedom, without attachment."
"We can only love in freedom, which is why the Lord created us free, free even to say no to him," Pope Francis said.
"Offering to Him what we hold most dear is in our best interest. It allows us to live it in the best possible way and in truth, as a gift he has given us, as a sign of his gratuitous goodness, knowing that our lives, as well as the whole of history, are in his benevolent hands."
Pope Francis underlined that in life, "we cannot control or predict" the future, our health, or what will happen to our loved ones.
"What matters is that our trust is placed in the Lord of the universe, who loves us immensely and knows that we can build with Him something wonderful, something eternal," he said. "The lives of the saints show us this in the most beautiful way."
Before the start of the general audience, the pope greeted Italian actor and comedian Roberto Benigni with a smile and a hug.
FULL STORY
Pope Francis: Freedom is found in offering to God what is hardest to give up (By Courtney Mares, CNA)