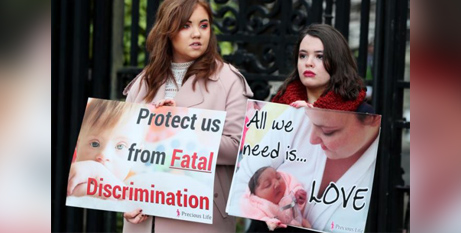 The Archbishop of Armagh and Primate of All Ireland has attacked the British Government's decision to "fast-track" the rollout of abortion services in Northern Ireland. Source: The Tablet.
"The abortion regulations being introduced by Westminster are predicated on the assumption that the unborn child in the womb has no right to love, care and protection from society, unless the child is wanted," Archbishop Eamon Martin said.
"Nothing could be further from the truth."
He added: "None of us acquire our humanity, or our fundamental right to existence, on the basis of whether or not we are wanted."
The Archbishop was speaking in response to repeated efforts by Westminster to push forwards with commissioning and funding abortion services in Northern Ireland.
In October, the then-Northern Ireland Secretary Chris Heaton-Harris announced the UK Government would take the unusual step of directly funding abortion services in the region.
Noting that the UK Parliament decriminalised abortion in Northern Ireland in 2019, Mr Heaton-Harris said it was "not right that three years on, women and girls in Northern Ireland are still unable to access the full range of health care to which they are lawfully entitled".
Archbishop Martin's statement came as MPs debated the inclusion of abortion in the forthcoming "Bill of Rights", prompted by an online petition requesting that MPs consider adding abortion access to the rights laid out in the Government's bill.
FULL STORY
Martin condemns abortion 'fast-track' in Northern Ireland (By Madoc Cairns, The Tablet)