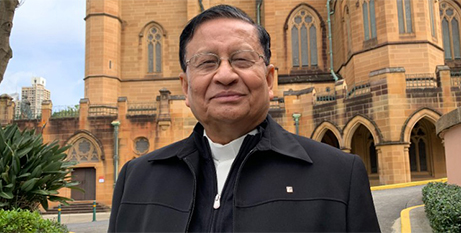 Cardinal Charles Bo of Yangon says the Church in Myanmar is wounded and displaced as thousands of people are forced to flee their homes, villages are burned and churches are destroyed amid the conflict triggered by last year's military coup. Source: UCA News.
"The people of Myanmar have been suffering from the COVID pandemic and political instability for the last two years and thousands of people are homeless and seeking refuge in the camps," Cardinal Bo said in his homily at the ordination of two Salesians at a shrine in Anesakahan, near Pyin-Oo-Lwinon on December 8.
"Amid the darkness and the suffering, the Church is wounded, the Church is displaced," he said.
The cardinal, who is also the head of the Catholic Bishops Conference of Myanmar, has called for peace, dialogue and reconciliation in the beleaguered Southeast Asian nation.
"The only thing we need in Myanmar is love, reconciliation," he said, urging Catholics to pray for the country and lend a hand to those most in need regardless of race and religion.
The cardinal, however, did not mention the military's arson attacks on villages, including his own.
The latest appeal by Cardinal Bo came just two weeks after his home village – Mon Hla in the embattled Sagaing region – was raided by the military and homes were set ablaze while at least three civilians including a 7-year-old boy were killed.
At least 110 homes that belong to Catholic and Buddhist villagers from Mon Hla were destroyed in the November 24 attack by junta forces.
The military has also targeted other Catholic villages and thousands of Christians have been displaced and sought refuge in churches, relatives' homes and in the jungle under the military's reign of terror.
FULL STORY
'Church in Myanmar is wounded, displaced,' cardinal says (UCA News)