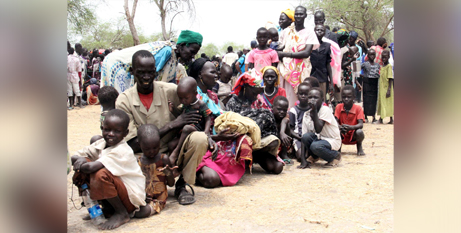 Pope Francis says he is following with concern the news about violent clashes in South Sudan, ahead of his February ecumenical pilgrimage of peace to the East African country. Source: Vatican News.
"Let us pray to the Lord for peace and national reconciliation, that the attacks will cease and that civilians will always be respected," he said after his Angelus address yesterday.
The appeal resonates as the United Nations Refugee Agency warns of the worsening humanitarian situation caused by the intensifying armed conflict in South Sudan's Upper Nile state that has displaced tens of thousands of vulnerable people, and comes ahead of the Pope's scheduled ecumenical pilgrimage for peace to South Sudan from February 3-5.
Recent reports estimate that more than 9000 people – mostly women and children – have fled the most recent violence in Upper Nile state, after battles between armed factions erupted in Fashoda County.
The UN refugee agency says at least 20,000 people have fled since August, including several thousand over the border.
Reporting on the dire situation, the UN said some people were forced to hide in marshes and bushes to avoid danger.
The violence in the region has killed scores of people. Fleeing civilians are traumatised and report killings, injuries, gender-based violence, abductions, extortion, pillaging and the torching of property.
Meanwhile, in neighbouring Sudan, the United Nations organised a meeting with diplomats from the African Union to discuss the worsening crisis last week.
FULL STORY
Pope Francis prays for peace in South Sudan (By Linda Bordoni & Nathan Morley, Vatican News)