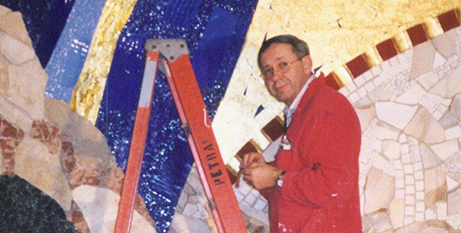 An eminent Jesuit priest and artist, Fr Marko Rupnik, was excommunicated after being found guilty of "one of the worst forms of spiritual abuse" just two years before the Vatican decided to take no action on further abuse allegations. Source: The Tablet.
Associated Press confirmed an allegation reported first by the Messa in Latino blog that Fr Rupnik had been convicted of absolving a woman in confession of engaging in sexual activity with him after a complaint in 2019 and had been sanctioned as a result.
But separate, historic allegations made just two years later were not prosecuted because the Vatican decided they were too old to take action on.
Fr James Martin SJ, editor-at-large of the Jesuit review America, which carried the AP report, tweeted: "In the Catholic Church, in addition to the crimes of physical and sexual abuse, there is spiritual abuse, and a priest absolving someone in the confessional from a sin they have committed together is considered one of the worst forms of spiritual abuse."
He added: "It immediately incurs what is called a latae sententiae or automatic, excommunication from the Church. That is, besides civil penalties for any crimes committed, the absolution is so heinous that the priest automatically excommunicates himself from that moment… cutting himself off from any participation in the Church's sacraments. As a Jesuit, a priest, a Catholic and a Christian, the sins and crimes of abuse, whether physical or spiritual, disgust me."
Fr Arturo Sosa SJ, Superior General of the Society of Jesus, said yesterday in an address to journalists in Rome that a commitment to a "culture of safeguarding" embraced by the Jesuits in 2016 was a "cultural change" that required long, well-planned processes.
"The case of Fr Marko Rupnik, which became public last week, is a good example of how much we still have to learn, especially about people's suffering," Fr Sosa said.
"This case, like others, causes us shock and sorrow; it forces us to understand and empathise with the suffering of all those involved in one form or another. It confronts us with the challenge of respecting this pain at the same time as we scrupulously initiate the procedures demanded by civil or canonical laws."
FULL STORY
Scandal over Jesuit priest and artist who 'absolved' woman for engaging in sexual activity with him (By Ruth Gledhill, The Tablet)
RELATED COVERAGE
Jesuit artist was excommunicated before latest abuse report, superior says (CNS)
Jesuits admit artist excommunicated before new abuse claims (Crux)