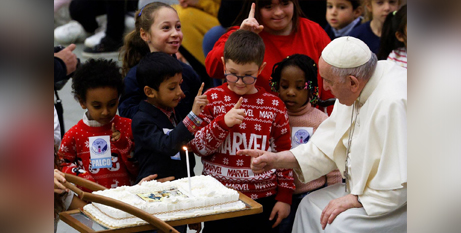 The day after he turned 86, Pope Francis met with volunteers, family members and children receiving care from a Vatican paediatric clinic. Source: CNS.
The group of children receiving assistance from the Vatican's St Martha Dispensary, a maternal and children's clinic, were treated to a show by circus performers in the Vatican's Paul VI hall on Sunday and to a large white sheet cake adorned with one tall candle.
The Pope thanked his guests for their visit and for a "day of joy that helps us prepare for Christmas".
He also reminded everyone to not forget to pray for the children of Ukraine, saying "so many children who suffer because of war and they suffer also in other places because of injustice".
According to Vatican News, the Pope pointed to a Ukrainian flag in the hall and noted the word "peace" written on it.
"If the Lord gives us this joy to celebrate Christmas like this, all together, in peace, let us also think of those who suffer and let us pray together for them."
Separately, at the Angelus prayer in St Peter's Square on Sunday, Pope Francis again prayed for peace in Ukraine and for all those suffering from the ongoing war.
"We ask the Virgin Mary … to touch the hearts of those who can put a stop to the war in Ukraine. Let us not forget the suffering of those people, especially of children, the elderly, and those who are ill. Let us pray, pray [for them]!"
FULL STORY
Kids help pope celebrate 86th birthday with cake, circus performers (CNS)
Pope Francis prays for children suffering in Ukraine (Vatican News)