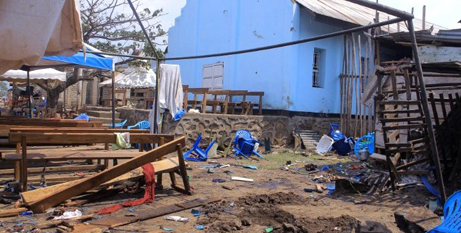 Pope Francis has conveyed his sorrow and closeness to the families of the dead and wounded after a deadly bomb attack on a Pentecostal church in north-eastern Congo killed nearly 20 people over the weekend. Source: Crux.
The Pope is due to visit the Democratic Republic of Congo at the end of this month.
In a telegram yesterday addressed to Reverend Andre Bokundoa-Bo-Likabe, President of the Church of Christ in Congo, and signed by Vatican Secretary of State Cardinal Pietro Parolin, the Pope said he "learned with sadness of the attack against a Pentecostal Church in Kasindi which caused the death of innocents".
Pope Francis assured the families most directly impacted by the violence of his "compassion and closeness," and entrusted the dead to God's mercy, praying that "the affected may find consolation and confidence in God, invoking on them the gift of peace".
The suspected terrorist attack has left at least 17 people dead and dozens of others wounded.
The bombing took place during a Sunday service in an area rife with conflict along the Congo's border with Uganda.
The attack is a further illustration of just how unstable the security situation is in Congo, where Pope Francis is slated to visit at the end of this month.
Francis will travel to the Democratic Republic of Congo from January 31-February 3 as part of a two-leg journey that will also take him to South Sudan for an ecumenical visit alongside the Archbishop of Canterbury and the Moderator of the Church of Scotland.
FULL STORY
Ahead of visit, Pope sends prayers for victims of Congo church attack (By Elise Ann Allen, Crux)