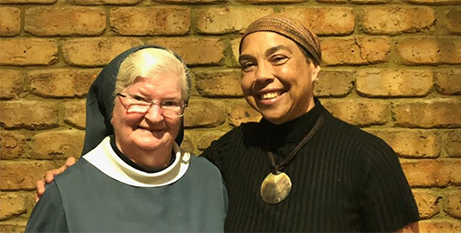 Having read an article years ago on the similarities of Aboriginal spirituality and early Christian desert spirituality, Benedictine Sister Antonia Curtis dreamed of creating a retreat bringing the two together. Source: Catholic Outlook.
Now she is preparing to launch Sacred Connections, an online retreat, on February 12.
"Some months ago I saw a picture of (Gweagal Aboriginal woman) Theresa Ardler presenting a copy of the Uluru Statement from the Heart to Pope Francis, Sr Antonia said.
Theresa readily agreed to join Sr Antonia on the project. "And so, we were off on this journey together," Sr Antonia recalls.
The retreat will focus on the values silence/listening, reverence and community.
"From what I had learned about Aboriginal spirituality, I knew that these values were integral to their way of life," she says, "and of course they are key values in Benedictine spirituality.
"So I knew we had a match."
Ms Ardler also felt the link, particularly in the hospitality she encountered when visiting the Sr Antonia's Benedictine Abbey at Jamberoo, on the South Coast of New South Wales.
"What struck me then was the hospitality offered to guests and how like Aboriginal hospitality it was," Ms Ardler said.
"Hospitality links right into silence/listening, reverence and community. All overlap and flow into one another."
Sr Antonia found herself better understanding the possibilities that arise with true depth of listening and silence through working with Ms Ardler.
She hopes a wide variety of people will attend and gain value from the retreat, no matter their background or whether they are involved with the Church, or marginalised and on the fringes.
"This is a retreat about trying to connect to the essence of things, the unity of everything," Sr Antonia said. "We are all one, or at least Jesus hoped that we would all become one. We still have a way to go."
Details and registrations: jamberooabbey.org.au/retreats/online-retreats.
FULL STORY
A new retreat connects Aboriginal and Benedictine Spirituality (By Christina Gretton, Catholic Outlook)