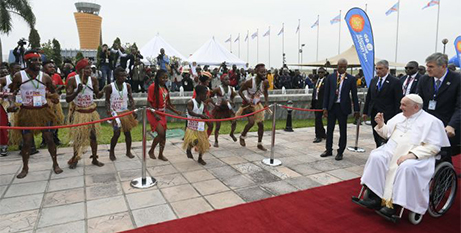 Pope Francis kicked off a six-day visit to Africa yesterday with a harsh condemnation of the violent colonialist history of the Democratic Republic of Congo, and the greedy exploitation of the African continent's vast resources by wealthy global elites. Source: Crux.
"Hands off Africa!" he insisted at one point, addressing global political and financial centres of power.
Speaking to civil authorities after his arrival in Kinshasa, the Pope lamented the ongoing conflict tearing the country apart and said, "It is a tragedy that these lands, and more generally the whole African continent, continue to endure various forms of exploitation".
Over the years, political exploitation led to "an 'economic colonialism' that was equally enslaving", he said, saying that because of this, the Congo, "massively plundered, has not benefited adequately from its immense resources".
Comparing Congo to a diamond, the jewel for which the country is most famed, and the violent, slave-like exploitation that has given Congolese rocks the unsavoury nickname, "blood diamonds", Francis said greed has poisoned the country and "smeared its diamonds with blood."
He criticised the economically advanced world for closing "its eyes, ears and mouth" to the darker realities in Congo, saying the country and Africa as a whole "deserve to be respected and listened to."
"Hands off the Democratic Republic of the Congo! Hands off Africa!" he said, saying, "Stop choking Africa: it is not a mine to be stripped or a terrain to be plundered."
Pope Francis's Congo trip is part of a two-stage journey that will also take him to South Sudan, where he will make an ecumenical visit alongside the Archbishop of Canterbury, Justin Welby, and the Moderator of the Church of Scotland, Rev Iain Greenshields.
FULL STORY
Opening Africa trip, Pope rips exploitation of continent by global elites (By Elise Ann Allen, Crux)
RELATED COVERAGE
Pope prays for migrants in greetings to journalists on papal plane (Vatican News)
'Hands off Africa!' Pope Francis says in Democratic Republic of Congo (CNA)