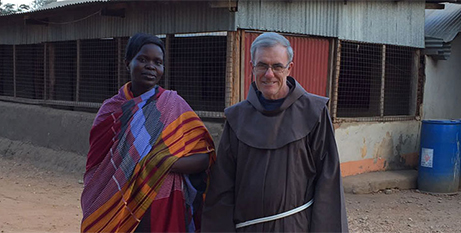 Brisbane Franciscan Father Mario Debattista said there was electricity in the crowd at Pope Francis' Mass in Juba, South Sudan, on Sunday. Source: The Catholic Leader.
He said even the mood on the streets had changed while the Pope was in the country.
"There was a real sense of joy when it was all over as I think people were just so touched that (Pope Francis) had made the effort to come to South Sudan and take up their cause and desire for peace," he said.
The Pope's advocacy for peace ignited its own sense of peace, he said.
"I couldn't help but think that if the mood was like this all the time, what a difference it would make for people, allowing them to walk even at night in security and joy and in a relaxed mood – something that is generally just not possible at the moment," Fr Debattista said.
"The Pope seems to have helped people to give themselves the permission or the opportunity to relax and feel safe, which means a lot here."
Pope Francis visited South Sudan for three days from Friday to Sunday last weekend. He travelled on an ecumenical pilgrimage with Archbishop of Canterbury Justin Welby and the Moderator of the General Assembly of the Church of Scotland, Dr Iain Greenshields.
Fr Debattista arrived in South Sudan last month from Brisbane, where he was based at Kedron parish. He is parish priest in Juba for the second time – he ministered in Juba from 2013-2016 when civil war tensions flared and he was forced to leave.
Many refugees from the United Nations camp in Fr Debattista's parish were able to meet with Pope Francis at a special meeting.
Fr Debattista was unable to attend due to seating limits, but a brother priest from his parish attended and said it had been a "moving" experience.
FULL STORY
Brisbane priest says Pope's presence emboldened the people's desire for peace in South Sudan (By Joe Higgins, The Catholic Leader)
RELATED COVERAGE
Brisbane Franciscan friar arrives in South Sudan just in time to see Pope Francis (The Catholic Leader)